OX-Drive Battery modules represent the core energy source behind Powered by Electric GT's new EV Systems. OXD Batteries are an ideal energy source for Automotive Aftermarkets, Electric Vehicles and Energy Storage Systems. OX Drive Power & Energy Modules offer a robust variety of applications.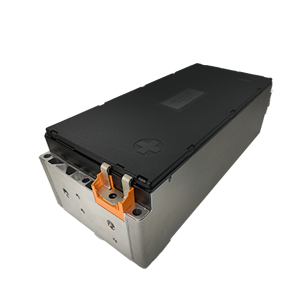 The OX-Drive ENERGY (OXDE) battery modules are a compact modular format with versatile fitment dimensions, alternative voltage configurations, robust construction, advanced battery chemistry, and OEM level of performance.  
Density and Fitment: Battery density is comparable to the Tesla 5.3kWh Module and it is a granular packaged size (approximately shoe box size vs dresser drawer) which allows for a wide range of battery fitment possibilities. Modules are constructed with built in fusing, venting and short circuit device, the OX-Drive ENERGY Modules offer OEM level safety and protection. 
Performance: OXDE offers excellent performance and safety over an even wider range of SOC and Temperatures. Modules are are rated at 2,000 cycles to 85% capacity. These modules perform very well in challenging cold environments and under heavy demand. The modules will accept full DC Fast Charging currents all the way to 0℃(32℉). Max Discharge current is available down to 20% SOC at moderate temps (15℃/59℉).
Simply put these *NEW* modules are your best option for Energy Modules for EV builds, energy storage or solar project.
2.22 KWH | $695 per Module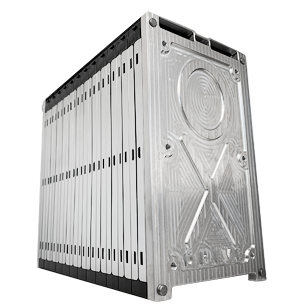 The OX-Drive POWER (OXDP) battery modules are an excellent go-to battery for both power dense solutions and custom configurations. They are highly configurable allowing for a wide range of applications. 
Density and Fitment: OXDP modules are a ideal for higher voltage EV projects. These pouch cell format modules are stackable enabling "battery paralleling" to occur at the CELL level. OXDP offer lower voltage systems safe, non-paralleled solutions with excellent  fitment flexibility. The configurable nature of these modules allows for even  more custom fitment options than the OXDE. 
Performance: OXDP modules have a much higher rated output for performance applications than OXDE. The high pulse discharge rates of 8C (and 10C coming soon) are perfect for high-performance projects such as Tesla Motor Swaps or top-end Cascadia applications. Cell stacking allows for unique configurations for lower voltage uses (ie Hyper 9 or HPEVs 96-144v systems). Think of these as the solution for "race gas" to supercharge your EV project. 
Protect your projects investment by using OX Drive Batteries. Modules are delivered brand new.
See our application examples to assist in finding the right configuration. 
*Custom module sizes & configurations available
OXDE | 2.22KWH | 14.8v | 151Ah |

.STEP File Download
OXDE | 2.22KWH | 22.2v | 103Ah |

.STEP File Download
14.02 L x 5.98 W x 4.3 H (inch)
OXDP | 2.66KWH | Configurable |

.STEP File Download
OXDP | 5.33KWH | Configurable |

 .STEP File Download
10.6 L x 5.5 W x 9.9 H (inch)
20.0 L x 5.5 W x 9.9 H (inch)
Drop us a line! We can spin up a quote or help you with your purchase.